Last Week in Review: GDP and Durable Goods Orders disappointed, home price gains have returned to more normal levels, and the labor sector still shows signs of improvement.Forecast for the Week: The week is busy from start to finish, with key news on inflation, manufacturing and jobs.

View: Do you know what words you should avoid using on LinkedIn?

"Keep lifting me higher." Jackie Wilson may have been singing about love, but it's weak economic data and mixed corporate earnings that have been pushing Mortgage Bonds higher, helping home loan rates remain near historic lows.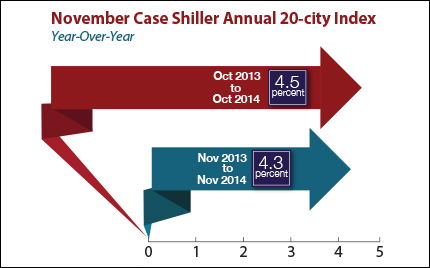 The first reading of Gross Domestic Product (GDP) for the fourth quarter of 2014 fell to 2.6 percent from the 5 percent recorded in the third quarter. For all of 2014, GDP grew by 2.4 percent, just slightly above the 2.2 percent in 2013. GDP is considered the broadest measure of U.S. economic activity, and strong GDP is an essential sign of our economic recovery. Also of note, Durable Goods Orders (i.e., orders for items that last for an extended period of time) fell by 3.4 percent in December, while November's numbers were revised lower. These reports show that the U.S. economy continues to muddle along after a six year recovery.

In housing news, sales of new homes in December increased 11.6 percent from November, while the S&P/Case Shiller Home Price Index showed that home prices increased 4.3 percent annually in November. Home price gains have returned to more normal levels after the double digit gains seen at the end of 2013 and the beginning of 2014.

There was good news from the labor sector as Weekly Initial Jobless Claims fell to lows not seen in nearly 15 years. While a Labor Department spokesman noted that some of the decline could be attributed to the Martin Luther King Jr. holiday, the news correlated with the Fed's sentiment in its recent Monetary Policy Statement that, "Labor market conditions have improved further, with strong job gains and a lower unemployment rate." And indeed, consumer confidence has been growing as January's reading surged to 102.9, the highest level in seven years.

The bottom line is that now is a great time to consider a home purchase or refinance. Let me know if I can answer any questions at all for you or your clients.

A busy week is ahead, with key readings on consumer spending and income, inflation, manufacturing, and the all-important Jobs Report for January.
Economic data kicks off on Monday with Personal Income, Personal Spending and Personal Consumption Expenditures (the Fed's favorite measure of inflation).
Also on Monday, look for manufacturing news via the ISM Index. Wednesday brings the ISM Services Index.
The ADP National Employment Report will be released on Wednesday.
On Thursday, we'll get a read on Productivity for 4Q 2014 and Weekly Initial Jobless Claims.
Friday is the big day with the January Jobs Report, which includes Non-farm Payrolls and the Unemployment Rate.
Remember: Weak economic news normally causes money to flow out of Stocks and into Bonds, helping Bonds and home loan rates improve, while strong economic news normally has the opposite result. The chart below shows Mortgage Backed Securities (MBS), which are the type of Bond on which home loan rates are based.
When you see these Bond prices moving higher, it means home loan rates are improving and when they are moving lower, home loan rates are getting worse.
To go one step further a red "candle" means that MBS worsened during the day, while a green "candle" means MBS improved during the day. Depending on how dramatic the changes were on any given day, this can cause rate changes throughout the day, as well as on the rate sheets we start with each morning.
As you can see in the chart below, Mortgage Bonds improved recently due to mixed corporate earnings and some weaker than expected reports. Home loan rates remain near historic lows.
Chart: Fannie Mae 3.0% Mortgage Bond (Friday Jan 30, 2015)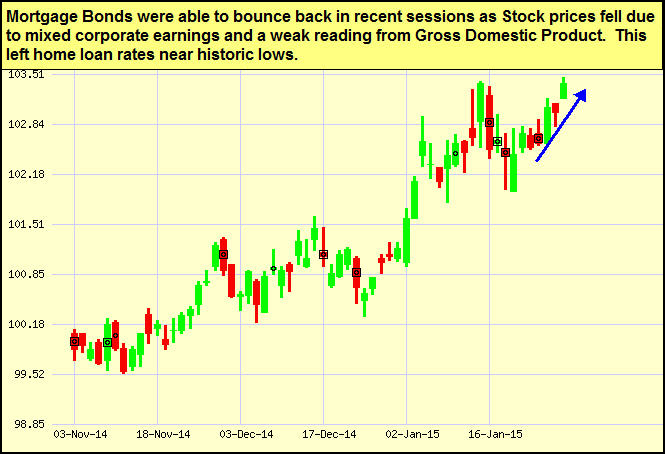 The Mortgage Market Guide View

Overused Buzzwords on LinkedIn ProfilesLinkedIn recently released its annual survey of the most overused buzzwords in user profiles. Avoiding these cliche's is essential if you want your profile to stand out from the crowd:

Expert. Calling yourself an expert is bad form. Rather than merely claim expertise, let others you've worked with do it on your behalf: ask for recommendations!

Track record. Many people have a "proven track record" these days, but few actually prove it with details about their achievements—list those instead.

Responsible. This passive descriptor is unnecessary once you demonstrate how responsible you are. Utilize the Skills & Endorsements section of LinkedIn to prove it.

Driven. Show people how driven you are by including side projects, memberships, continuing education, certifications and any of your volunteer activities.

Creative. Leverage the full power of LinkedIn by adding relevant collateral, videos, documents, presentations or pictures to your profile.

Passionate. Results reveal your passion more than anything else. If you can provide percentages, conversion numbers or other hard data, don't be shy about these.

Please feel free to pass these helpful LinkedIn tips along to your team, clients and colleagues!

Source: LinkedIn

Economic Calendar for the Week of February 2 – February 6

| | | | | | | | |
| --- | --- | --- | --- | --- | --- | --- | --- |
| Date | ET | Economic Report | For | Estimate | Actual | Prior | Impact |
| Mon. February 02 | 08:30 | Personal Income | Dec | NA | Â | 0.4% | Moderate |
| Mon. February 02 | 08:30 | Personal Spending | Dec | NA | Â | 0.6% | Moderate |
| Mon. February 02 | 08:30 | Personal Consumption Expenditures and Core PCE | Dec | NA | Â | 0.0% | HIGH |
| Mon. February 02 | 08:30 | Personal Consumption Expenditures and Core PCE | YOY | NA | Â | 1.4% | HIGH |
| Mon. February 02 | 10:00 | ISM Index | Jan | NA | Â | 55.5 | HIGH |
| Wed. February 04 | 10:00 | ISM Services Index | Jan | NA | Â | 56.2 | Moderate |
| Wed. February 04 | 08:15 | ADP National Employment Report | Jan | NA | Â | 241K | HIGH |
| Thu. February 05 | 08:30 | Productivity | Q4 | NA | Â | 2.3% | Moderate |
| Thu. February 05 | 08:30 | Jobless Claims (Initial) | 1/31 | NA | Â | NA | Moderate |
| Fri. February 06 | 08:30 | Non-farm Payrolls | Jan | NA | Â | 252K | HIGH |
| Fri. February 06 | 08:30 | Average Work Week | Jan | NA | Â | 34.6 | HIGH |
| Fri. February 06 | 08:30 | Unemployment Rate | Jan | NA | Â | 5.6% | HIGH |
| Fri. February 06 | 08:00 | Hourly Earnings | Jan | NA | Â | -0.2% | HIGH |

Â
Â