Last Week in Review: The Jobs Report for January was a "big" surprise, while home price appreciation continues to stabilize at normal levels.Forecast for the Week: Economic data doesn't begin until Thursday, with just a handful of reports to end the week.View: The flu is nothing to sneeze at. Stay healthy this season with four easy tips.

"Yet, through all the gloom, I can see the rays of ravishing light and glory." John Adams. The gloom of recent years seems to be gone from the labor sector, as it is a bright spot in our economy at the start of this year.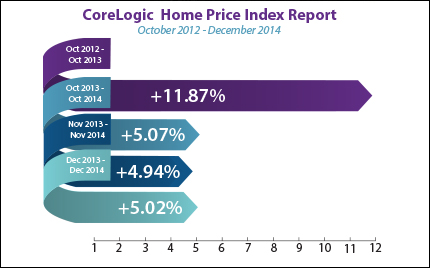 The January Jobs Report showed that 257,000 jobs were created, above the 235,000 expected, as the sector continues to produce robust gains. In addition, job creations for November and December were revised sharply higher by 147,000. The last three months have averaged 336,000 new hires, the best three-month period in the last 17 years. January marked the 11th straight month of job gains above 200,000, the longest streak since 1994.Also of note, the Unemployment Rate ticked up slightly to 5.7 percent from 5.6 percent, while hourly earnings came in above expectations. It will be important to monitor future hourly earnings readings, as growth in this area could cause an increase in inflation. Since inflation is the kryptonite for fixed investments like Mortgage Bonds, it can also be bad news for home loan rates (which are tied to Mortgage Bonds).

Over in housing, research firm CoreLogic reported that home prices, including distressed sales, rose by 5 percent from December 2013 to December 2014. Home price gains continue to stabilize at more normal levels from the double digit gains seen in the past few years. While the 5 percent gain is the 34th month of consecutive year-over-year increases in home prices nationally, prices are still 13.4 percent below their April 2006 peak.

The bottom line is that now is a great time to consider a home purchase or refinance. Let me know if I can answer any questions at all for you or your clients.

The economic calendar is quiet this week, but news from overseas could still cause volatility.
On Thursday, look for Weekly Initial Jobless Claims and Retail Sales.
Friday brings the Consumer Sentiment Index for February.
Remember: Weak economic news normally causes money to flow out of Stocks and into Bonds, helping Bonds and home loan rates improve, while strong economic news normally has the opposite result. The chart below shows Mortgage Backed Securities (MBS), which are the type of Bond on which home loan rates are based.
When you see these Bond prices moving higher, it means home loan rates are improving—and when they are moving lower, home loan rates are getting worse.
To go one step further—a red "candle" means that MBS worsened during the day, while a green "candle" means MBS improved during the day. Depending on how dramatic the changes were on any given day, this can cause rate changes throughout the day, as well as on the rate sheets we start with each morning.
As you can see in the chart below, the strong Jobs Report and rising Stocks pressured Mortgage Bonds in recent days. However, home loan rates remain near historic lows.
Chart: Fannie Mae 3.0% Mortgage Bond (Friday Feb 06, 2015)
The Mortgage Market Guide View

Stop the Spread of the Flu at Its PeakWhile flu season coincides with most of winter, its peak is in February according to the Centers for Disease Control and Prevention (CDC). If you've ever had the flu, you understand the aches, pains and cost of lost work time due to this virus.The flu is most commonly spread in two ways. The first is by airborne particles left behind by a sneeze or cough from someone who is infected. The second is via hand-to-hand (or hand-to-object) contact. Everyday activities could put you and others at risk for contracting this illness.

While getting a vaccination annually is a great option to protect yourself, the following four tips can help reduce the spread of flu-related germs.

Wash your hands often. This is one of the most effective ways to stop the spread of germs. Give your hands and wrists a thorough scrubbing with soap and water throughout the day.

Cover your mouth and nose. Keep plenty of tissues on hand in the office. If you feel a cough or sneeze coming on, be sure to cover both your mouth and nose to avoid spreading any airborne particles that could infect others.

Disinfect surfaces and objects. According to the CDC, studies show that influenza germs can survive between two and eight hours on a surface. Conference room tables, phones, computer keyboards, door handles, pens and break room appliances are great breeding grounds for the spread of germs. Wipe these down frequently with disinfecting wipes.

If you are sick, stay home. Your body needs the rest, and you don't want to infect your colleagues by spreading germs.

The spread of the flu is nothing to sneeze at. Check out the CDC Flu Activity Map to see the level of flu activity across the United States now.

Don't be sidelined by the flu. Stay healthy by following the simple steps above, and pass the information on to your friends, family members and colleagues.

Source: CDC.gov

Economic Calendar for the Week of February 9 – February 13

| | | | | | | | |
| --- | --- | --- | --- | --- | --- | --- | --- |
| Date | ET | Economic Report | For | Estimate | Actual | Prior | Impact |
| Thu. February 12 | 08:30 | Jobless Claims (Initial) | 2/07 | NA | | 278K | Moderate |
| Thu. February 12 | 08:30 | Retail Sales | Jan | NA | | -0.9% | HIGH |
| Thu. February 12 | 08:30 | Retail Sales ex-auto | Jan | NA | | -1.0% | HIGH |
| Fri. February 13 | 10:00 | Consumer Sentiment Index (UoM) | Feb | NA | | 98.1 | Moderate |