Last Week in Review: Retail sales plummeted, inflation remains tame, and home loan rates are hovering near record lows.Forecast for the Week: It's a holiday-shortened week, with housing reports dominating the headlines.View: These five podcasts are great tools to help you succeed this year.

Shop or drop. Fewer people than expected opened their wallets in December, as the latest Retail Sales numbers declined. But with home loan rates hovering near historic lows, not all of last week's headlines were disappointing.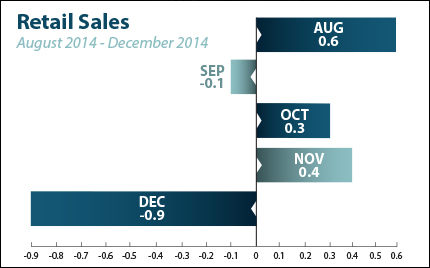 Retail Sales plunged by 0.9 percent in December, the biggest decline in nearly a year as lower gas prices didn't have the desired impact on consumer spending during the busy shopping season. November's numbers were also revised lower. This news was a bit of a surprise, and not the best sign for our overall economic recovery. But one number doesn't make a trend, so this will be an important report to watch in the coming months.On the inflation front, inflation at the wholesale level remained tamed in December while the Consumer Price Index showed its smallest gain in five years, mainly due to plunging oil prices. We are beginning to see disinflationary pressures, which is a slower rate of inflation over a shorter time period. While low inflation is Bond-friendly news (and also good for home loan rates, since they are tied to Mortgage Bonds), outright deflation is a sustained fall in prices. That is something we do not want to see because deflation also brings increased unemployment. Inflation is another key item to monitor as we move ahead into 2015.

Also of note, the World Bank cut its forecast for global growth, warning that the world economy remains overly reliant on the "single engine" of the U.S. recovery. If negative news from overseas continues, we could see safe haven trading into our Bond market, helping Mortgage Bonds and home loan rates in the process.

The bottom line is that home loan rates remain near historic lows, and now is a great time to consider a home purchase or refinance. Let me know if I can answer any questions at all for you or your clients.

The markets are closed Monday in observance of Martin Luther King Jr. Day. Then, housing reports are front and center the rest of the week.
On Tuesday, the National Association of Home Builders Housing Market Index for January will be released.
More housing numbers from December follow. Look for Housing Starts and Building Permits on Wednesday, and Existing Home Sales on Friday.
Weekly Initial Jobless Claims will be delivered on Thursday, as usual.
Remember: Weak economic news normally causes money to flow out of Stocks and into Bonds, helping Bonds and home loan rates improve, while strong economic news normally has the opposite result. The chart below shows Mortgage Backed Securities (MBS), which are the type of Bond on which home loan rates are based.
When you see these Bond prices moving higher, it means home loan rates are improving—and when they are moving lower, home loan rates are getting worse.
To go one step further—a red "candle" means that MBS worsened during the day, while a green "candle" means MBS improved during the day. Depending on how dramatic the changes were on any given day, this can cause rate changes throughout the day, as well as on the rate sheets we start with each morning.
As you can see in the chart below, Mortgage Bonds remain near multi-year highs, helping home loan rates hover near record lows.
Chart: Fannie Mae 3.5% Mortgage Bond (Friday Jan 16, 2015)
The Mortgage Market Guide View

5 Podcasts to Help You Succeed in 2015Podcasts have exploded in popularity, with Apple iTunes subscriptions surpassing the one billion mark and the best-known podcasts like Nerdist or NPR's This American Life garnering millions of downloads each week. Here are five podcasts that can help you grow both personally and professionally:This Is Your Life. This weekly podcast featuring author and blogger Michael Hyatt, the former Chairman and CEO of Thomas Nelson Publishers, is consistently ranked in the top ten in iTunes' Business category. The goal is to help listeners lead with intention, live passionately, and develop greater focus in life and business.

Social Media Marketing. Social Media Examiner's Michael Stelzner interviews leading social media marketing pros. You'll learn how to better leverage social media, hear about new strategies and tactics, and quickly improve your social media marketing skills.

48 Days to the Work You Love. Author and motivational speaker Dan Miller is the nation's leading authority on work, career and business acceleration. Learn more about finding yourself in your career and who you are called to be in relation to your vocation. This show is often number one under Career podcasts.

Beyond the To-Do List. Hosts discuss the real goal of productivity: planning for and living a meaningful life. Learn from the success and failure of other masters of the art of productivity, and get inspired to move ahead.

Dose of Leadership. Coach, speaker and podcaster Richard Rierson brings in authors, educators, entrepreneurs, CEOs, and other leaders from all walks of life to discuss their trials and breakthroughs. You'll discover down-to-earth tips for becoming a better leader and promoting positive change in your world.

Please feel free to pass these great success podcasts along to your team, clients and colleagues!

Source: iTunes

Economic Calendar for the Week of January 19 – January 23

| | | | | | | | |
| --- | --- | --- | --- | --- | --- | --- | --- |
| Date | ET | Economic Report | For | Estimate | Actual | Prior | Impact |
| Tue. January 20 | 10:00 | Housing Market Index | Jan | NA | Â | 57 | Moderate |
| Wed. January 21 | 08:30 | Housing Starts | Dec | NA | Â | 1028K | Moderate |
| Wed. January 21 | 08:30 | Building Permits | Dec | NA | Â | 1035K | Moderate |
| Thu. January 22 | 08:30 | Jobless Claims (Initial) | 1/17 | NA | Â | 316K | Moderate |
| Fri. January 23 | 10:00 | Existing Home Sales | Dec | NA | Â | 4.93K | Moderate |

Â