In This Issue…

Last Week in Review: Housing news was plentiful, while market volatility was rampant.Forecast for the Week: Look for news on housing, consumer attitudes, and economic growth. Plus, the Fed meets!

View: These six tips will not only make you a better listener, they'll also help improve your business relationships.

"There's no place like home." News from the housing sector was front and center, and with rates remaining near historic lows, great opportunities remain for those looking to purchase or refinance.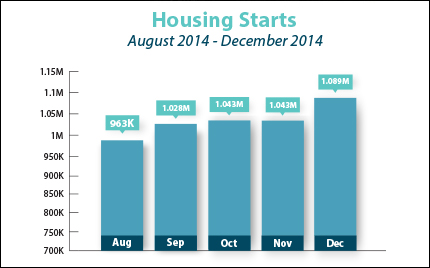 Housing Starts sizzled in December, rising 4.4 percent from November to 1.089 million annualized units, coming in above expectations. The rise in Housing Starts was the strongest annual pace in seven years and it was led by a jump in starts for single-family homes, which reached their highest level since early 2008.

Building Permits, a sign of future construction, did decrease by nearly 2 percent in December but still came in at a strong 1.03 million. Both Building Permits and Housing Starts figures were also revised higher in November.

Also of note, the January National Association of Home Builders Housing Market Index was 57. Readings above 50 are considered positive sentiments about market conditions. Meanwhile, December Existing Home Sales rose from November. However, sales in 2014 were lower compared to 2013 due to a sluggish start in the beginning of the year. Overall, the housing sector continues to improve.

In news overseas, the European Central Bank has announced that it will enact a massive Quantitative Easing, or QE, style of Bond purchases to fight off deflation and promote economic growth in the region. The news has caused extreme volatility in U.S. markets. However, Mortgage Bonds and home loan rates (which are tied to Mortgage Bonds) remain near historic best levels.

The bottom line is that now is a great time to consider a home purchase or refinance. Let me know if I can answer any questions at all for you or your clients.

Economic data is plentiful this week, while the first Federal Open Market Committee (FOMC) meeting of the year will take place.
Look for several key housing reports, including New Home Sales and the S&P/Case-Shiller Home Price Index on Tuesday and Pending Home Sales on Thursday.
Also on Tuesday, Durable Goods Orders for December will be released.
We'll get a sense of how consumers are feeling with Consumer Confidence on Tuesday and the Consumer Sentiment Index on Friday.
As usual, Thursday brings Weekly Initial Jobless Claims.
On Friday, look for the first reading on Q4 2014 Gross Domestic Product, the Employment Cost Index, and manufacturing news via the Chicago PMI.
In addition, the FOMC meeting kicks off on Tuesday and will end Wednesday with the 2:00 p.m. EST release of the Fed's monetary policy statement. This always has the potential to be a market mover—be sure to stay tuned!
Remember: Weak economic news normally causes money to flow out of Stocks and into Bonds, helping Bonds and home loan rates improve, while strong economic news normally has the opposite result. The chart below shows Mortgage Backed Securities (MBS), which are the type of Bond on which home loan rates are based.
When you see these Bond prices moving higher, it means home loan rates are improving—and when they are moving lower, home loan rates are getting worse.
To go one step further—a red "candle" means that MBS worsened during the day, while a green "candle" means MBS improved during the day. Depending on how dramatic the changes were on any given day, this can cause rate changes throughout the day, as well as on the rate sheets we start with each morning.
As you can see in the chart below, the Mortgage Bond market has been volatile of late. Home loan rates are still hovering near record lows, making now a great opportunity for anyone looking to purchase or refinance.
Chart: Fannie Mae 3.0% Mortgage Bond (Friday Jan 23, 2015)
The Mortgage Market Guide View

Are You Listening?Active listening is an important part of business relationships. It demonstrates respect to everyone in a conversation. Plus, it helps ensure you are receiving complete details and clarity of the message.

Whether on the phone or in person, these six strategies for active listening will keep you tuned in to the conversation.

1. Power down. Don't get distracted by technology. Email pop ups and cell phone notifications disrupt the conversation and distract both you and the speaker. Put your phone on silent, close your laptop or turn your desktop monitor away from you. Your messages will be there when your conversation is complete.

2. Sit up. How you physically carry yourself carries through into your energy and attentiveness. Sit up straight and give the speaker your full attention. If you are on the phone, you can stand up to be alert and attentive.

3. Don't interrupt. Hold your clarifying questions until the speaker is done. Jot your questions down, so you don't forget. They may get answered along the way.

4. Cue you are listening. Simple verbal cues like "uh-huh" and "okay" let the speaker know you are still present in the conversation. If you are in person, an occasional nod goes hand in hand with making eye contact.

5. Summarize key points. When the speaker is done, summarize his or her key points to illustrate you were listening. Start with, "What I'm hearing you say is…" or, "If I'm understanding you correctly…."

6. Clarify. Ask questions that provide additional details about a situation. You can also clarify what actions or outcomes the speaker anticipated by having the conversation with you.

Please feel free to pass these great tips along to your team, clients and colleagues!

Economic Calendar for the Week of January 26 – January 30

| | | | | | | | |
| --- | --- | --- | --- | --- | --- | --- | --- |
| Date | ET | Economic Report | For | Estimate | Actual | Prior | Impact |
| Tue. January 27 | 08:30 | Durable Goods Orders | Dec | NA | Â | -0.9% | Moderate |
| Tue. January 27 | 09:00 | S&P/Case-Shiller Home Price Index | Nov | NA | Â | 4.5% | Moderate |
| Tue. January 27 | 10:00 | Consumer Confidence | Jan | NA | Â | 92.6 | Moderate |
| Tue. January 27 | 10:00 | New Home Sales | Dec | NA | Â | 438K | Moderate |
| Wed. January 28 | 02:00 | FOMC Meeting | Jan | NA | Â | 0.25% | HIGH |
| Thu. January 29 | 10:00 | Pending Home Sales | Dec | NA | Â | 0.8% | Moderate |
| Thu. January 29 | 08:30 | Jobless Claims (Initial) | 1/24 | NA | Â | NA | Moderate |
| Fri. January 30 | 08:30 | Gross Domestic Product (GDP) | Q4 | NA | Â | 5.0% | Moderate |
| Fri. January 30 | 08:30 | GDP Chain Deflator | Q4 | NA | Â | 1.4% | Moderate |
| Fri. January 30 | 08:30 | Employment Cost Index (ECI) | Q4 | NA | Â | 0.7% | HIGH |
| Fri. January 30 | 09:45 | Chicago PMI | Jan | NA | Â | 58.3 | HIGH |
| Fri. January 30 | 10:00 | Consumer Sentiment Index (UoM) | Jan | NA | Â | 98.2 | Moderate |

Â
Â